We've been gone a while. We've been a busy bunch. Getting older, traveling and such.
Today I'm linking up with
September Farm
and
The Farmer's Wife
for Oh Hey, Friday!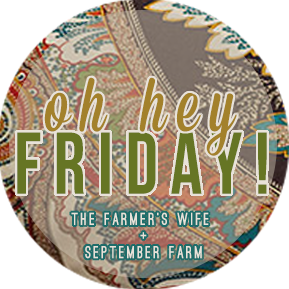 1. I turned 28! I'm still 27 in my head. I think I lied to a few people when they asked how old I was turning because this past year has gone by so quickly. To be honest, I am too busy thinking about the fact that my baby is about to be three to care that im two years from 30. :)
5. We celebrated Halloween! My little Minnie Mouse and Miles from Tomorrowland got to dress up three times this year. Griffin now thinks every other day is Halloween. He loved Halloween so much this year. It may end up being his favorite holiday. I do love it, but I'm a Christmas girl through and through. I'll be interested to see if he loves it as much.